A pot of family spirit, Two pots of tradition, Three pots of gluttony
Gluttony from father to daughters
In 1952, La Fermière was born in Provence from the desire to offer quality products and to democratize the consumption of yogurts.
50 years later, Jean-Jacques Tarpinian, Marseille entrepreneur and lover of good things, decides to take up the torch the day he learns that his favorite brand of yogurts is for sale. With the desire to continue to develop the company and the potential he sees in it, he put all his passion into the adventure, which became a family affair.
From the first day he placed the La Fermière range of yogurts on the family kitchen table as an advertisement, until today when his two daughters, to whom he passed on his passion, joined the company. , the Tarpinians are firmly convinced that know-how, quality and generosity are the keys to success.
Passionate men and women who continue to bring La Fermière to life in a family spirit.
As an independent company, our mission is to perpetuate this know-how. Every day, surrounded by a team that shares their commitment to the taste of things well done, they develop new delicacies and revisit the recipes of our childhood.
1952
Everything is already in the pot.
Birth of the first dairy in Marseille. A yoghurt combining taste and quality. Gluttony and creativity are already there because it is a first on the market!
1965
La Fermière is distinguished by its capacity for innovation and its demand for quality. Launch of the first industrial garlic cheese.
Launch of our range of flavored yogurts in waxed cardboard pots. A recipe that has stood the test of time and that you can still taste today! Launch of the first industrial garlic cheese.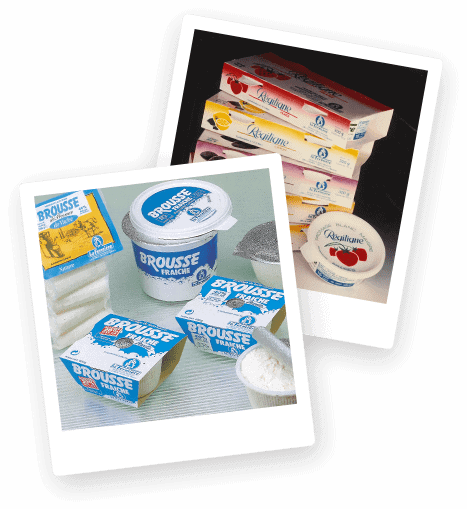 1970
3 new ranges:
Creation of the "Regiligne" range made up of low-fat yoghurts. Creation of the first caramel desserts in glass jars. Creation of a complete range of Brousse, authentic Mediterranean fresh cheese.
1980
In 1987, La Fermière wanted to impose itself at the national level.
A flagship product will allow it to climb there: the "Mont Plaisir", a range of two-layer stirred yoghurts with fruit in glass jars.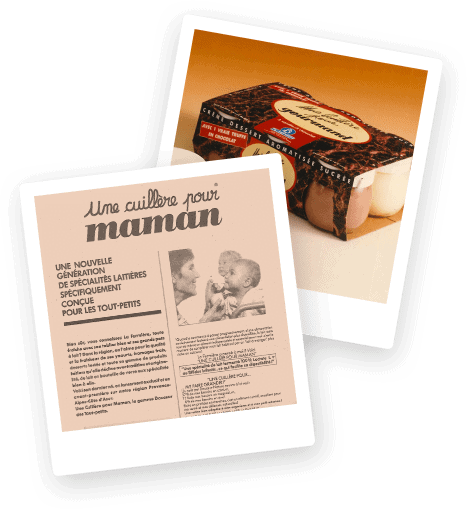 1990
The first dairy desserts for babies.
Developed with paediatricians, doctors and nutritionists. La Fermière was able to identify the needs of babies very early on, which allowed her to stand out!
1997
La Fermière full pot quality.
Always on the lookout for new flavors, La Fermière is launching a yoghurt in stoneware pots with two flavors: plain and vanilla. The innovation comes mainly from the implementation of a unique and specific process which allows the vanilla pods to be directly infused into milk and cream.

Currently, this yogurt is still the reference in terms of quality on the market.
2002
Following its takeover in 2002 by the Tarpinian family,
La Fermière has gone from a small family business to an SME and continues to design quality dairy products, respecting traditional methods and has given itself the mission of perpetuating this know-how by being a company committed to taste.
2007
La Fermière moved into new premises in Aubagne, more modern and more spacious.
This allows it to triple its production capacity to meet the growing demands of French and foreign markets and out-of-home consumption.
2010
Creation of a new, more modern image for La Fermière.
Improved recipes and overhaul of the "Mont Plaisir" range, which becomes pleasure moments.
2015
La Fermière buys the GAP cooperative dairy to secure its milk supply.
2016
Before 2015 La Fermière is a good product. A brand that lives only through the blue vanilla sandstone pot.
2016 La Fermière is a pretty brand. A new logo, new packaging that shows that we are much more than a blue sandstone pot. We are a small maker, passionate, with "artisanal" manufacturing methods.
2021
Let's talk pot, let's talk well.
A strong identity. La Fermière is reworking its packaging and its logo. The blue color of our emblematic blue sandstone pot becomes the spokesperson for our brand.
To find us now it's easy, just follow the blue line
The packs change, but not the recipes or the delicacies!
2022
70 years of indulgence
The iconic pot is making a comeback!